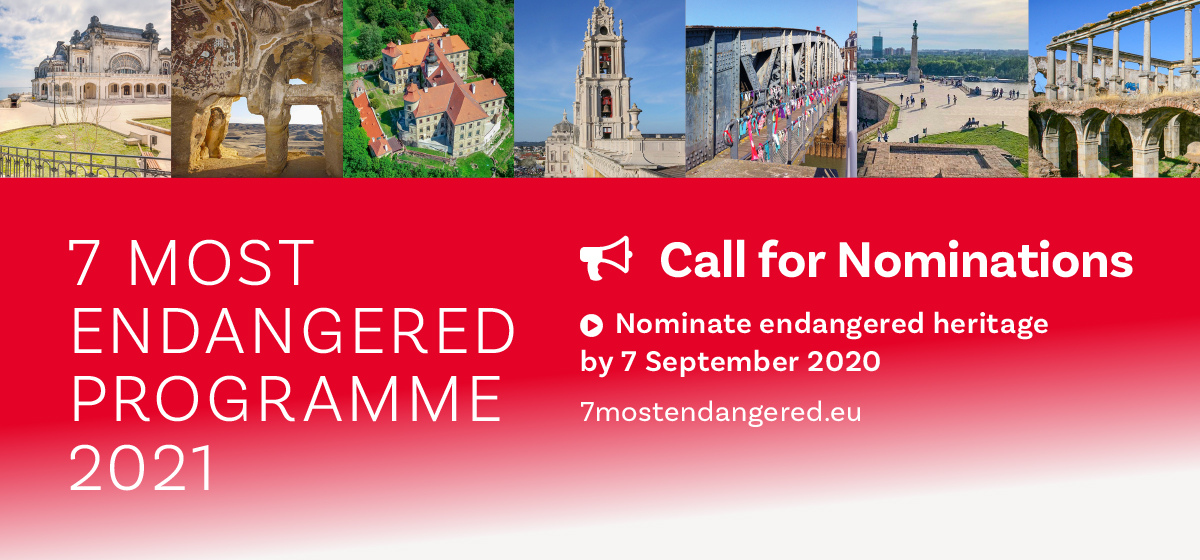 Many heritage treasures all over Europe are threatened due to a series of natural, human-related or climate change causes, particularly in these trying times.
Do you happen to know an important endangered heritage gem in Europe – such as a historic monument or an ensemble of historic monuments, an archaeological site, a place of worship, an industrial complex, a historic park, a museum or a movable heritage asset? Then nominate it for the 7 Most Endangered programme 2021!

Watch video

Launched in 2013, the 7 Most Endangered programme is a civil society campaign to save Europe's endangered heritage. It raises awareness, prepares independent assessments, proposes recommendations for action and seeks to rally support to save the selected endangered sites. It does not guarantee direct funding but the listing of an endangered site often serves as a catalyst and incentive for mobilisation of the necessary public or private support, including funding.
The 7 Most Endangered programme is run by Europa Nostra – the European Voice of Civil Society committed to Cultural and Natural Heritage – in partnership with the European Investment Bank Institute (EIB Institute). It also has the support of the Creative Europe programme of the European Union.
In the 2021 edition, for the first time since the launch of the programme, the selected 7 Most Endangered heritage sites will be eligible for an EIB Heritage Grant of up to 10,000 euros per site. The EIB Heritage Grant can be allocated to the eligible selected 7 Most Endangered sites as an assistance for an agreed activity aimed to ensure the saving of the threatened site.
You can nominate endangered heritage with the support of an organisation in your country that is already a member of Europa Nostra or directly by joining our pan-European network, as a member or associate organisation or as a new individual member. Members of the European Heritage Alliance can also submit a nomination for the programme.
Let's save Europe's endangered heritage sites together!
The deadline for submissions is 7 September 2020 (date of sending).

Nominate now
| | | |
| --- | --- | --- |
| | | |